William C. Graham
Hon. William C. Graham, P.C., O.C., Q.C.
Former Member of Canadian House of Commons; former Minister of Foreign Affairs and former Minister of Defence, Ottawa; Chancellor, Trinity College, University of Toronto; Hon. Col. of The Canadian Special Operations Forces Command; Founder of The Bill Graham Centre for Contemporary International History; former Chair of Canadian International Council; former Chair of The NATO Association of Canada (formerly The Atlantic Council of Canada)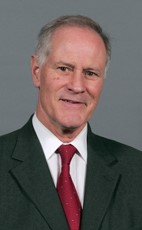 Biography
First elected as Member of Parliament for Toronto-Centre-Rosedale in 1993, Bill Graham served as Minister of Foreign Affairs from January 2002 until July 2004 when he was appointed Minister of National Defence. In February 2006, Bill Graham was appointed Leader of the Official Opposition and Interim Leader of the Liberal Party of Canada, positions he held until December 2006. From 1995 to 2002, Mr. Graham served as Chairman of the Standing Committee of the House of Commons on Foreign Affairs and International Trade. Active in international parliamentary associations, Mr. Graham was elected founding president of the Inter-Parliamentary Forum of the Americas. He has served as vice president and treasurer of the Parliamentary Association of the Organization for Security and Co-operation in Europe, and as treasurer of Liberal International. Prior to his election to parliament, Mr. Graham practiced law at Fasken & Calvin, specializing in civil litigation and international business transactions, and served on the board of directors of various public and private Canadian corporations. Subsequently, he taught international trade law, public international law, and the law of the European Community at the University of Toronto Faculty of Law. He also served as director of the Centre of International Studies at the University of Toronto. Mr. Graham has been a visiting lecturer in law at McGill University and the Université de Montréal. A past president of the Alliance française de Toronto, Mr. Graham has been recognized for his contributions to French language and culture in Ontario by being granted the Prix Jean-Baptiste Rousseaux, the Médaille d'argent de la ville de Paris, the Médaille d'or de l'Alliance française, and the Ordre du mérite de l'Association des juristes de l'Ontario. He is a Chevalier de la Légion d'honneur and Chevalier de l'Ordre de la Pléiade. In 2010 Mr. Graham received an Honorary Doctor of Laws from the Royal Military College of Canada and a Doctoral Ring from the University of Siena, Italy, and in 2018 he received an Honorary Doctor of Laws from the University of Toronto. In 2014 he received the Order of Canada.