Adem Bunkeddeko
Adem Bunkeddeko
Executive Director, Coro New York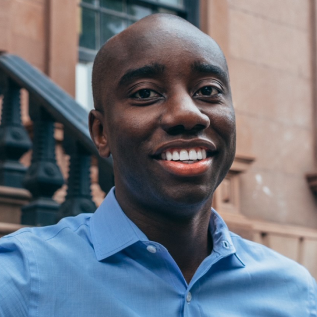 Adem Bunkeddeko is the Executive Director of Coro New York. He is tasked with leading a civic leadership organization that believes meaningful change comes from collaboration: people in business and communities, schools and unions, government and nonprofits, working together to find creative solutions and strengthen our democracy. Adem brings a unique combination of vision, energy, experience, and local expertise.
Prior to Coro, he worked in a variety of managerial roles across the private, public, and social sectors and is a two-time candidate for the U.S. House of Representatives. Most recently, Adem served as senior advisor to the Local Initiatives Support Corporation's (LISC) Project 10x—an initiative designed to upend the racial and opportunity gaps in America.
Adem's parents are war refugees who fled Uganda's turbulent civil war to seek sanctuary and opportunity in the United States. They settled down and successfully reared their New York City-born children in a modest one-bedroom apartment. Adem's parents turned what had been a nightmare in Uganda into their version of the American Dream. A product of the New York City public school system, Adem was fortunate enough to earn scholarships for high school and college. Adem is one of the first members of his family to graduate from college and earn a graduate degree.
He received a B.A. from Haverford College and an M.B.A. from Harvard Business School.