Hong Seok-Hyun
Seok-Hyun Hong
Chairman, JoongAng Holdings, Seoul; former Korean Ambassador to the United States; Honorary Deputy Chairman, Asia Pacific Group, The Trilateral Commission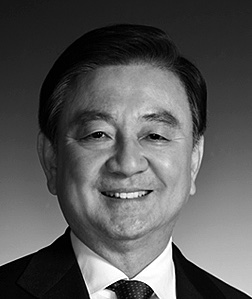 Hong Seok-Hyun is the chairman and CEO of the JoongAng Media Network, the largest media group in Korea. He took over the management of the JoongAng Ilbo as CEO and publisher in 1994. He served as president of the World Association of Newspapers from 2002 to 2005, and also as president of the Korea Association of Newspapers from 2003 to 2005. He served as the Korean Ambassador to the United States in 2005.
Early in his career, Hong joined the World Bank in 1977 as an expert in developmental economics, with assignments primarily in Turkey and Malaysia, and remained there for six years until he returned to Korea in the early 1980s. Upon his return, he joined the Korean government in 1983, first as chief assistant to the minister of finance and then as principal assistant to the chief of staff of the President. He then joined the Korea Development Institute. He also worked for the Samsung Corning Company from 1986 to 1994 as senior executive vice president. He also served as the first chairman of the newly launched English-Speaking Union Korea in 2004. He also holds the following titles: deputy chairman of Asia Pacific Group of the Trilateral Commission; member of the Board of Trustees for the Center for Strategic and International Studies (CSIS); chairman of the Korea Baduk(Go) Association, and president of the organizing committee of the World Culture Open (WCO).
Hong received a bachelor's degree in Electronic Engineering from Seoul National University, and earned his master's degree in Industrial Engineering and doctor of philosophy degree in Economics from Stanford University.