Indira Samarasekera
Indira Samarasekera
Senior Advisor, Bennett Jones LLP, Vancouver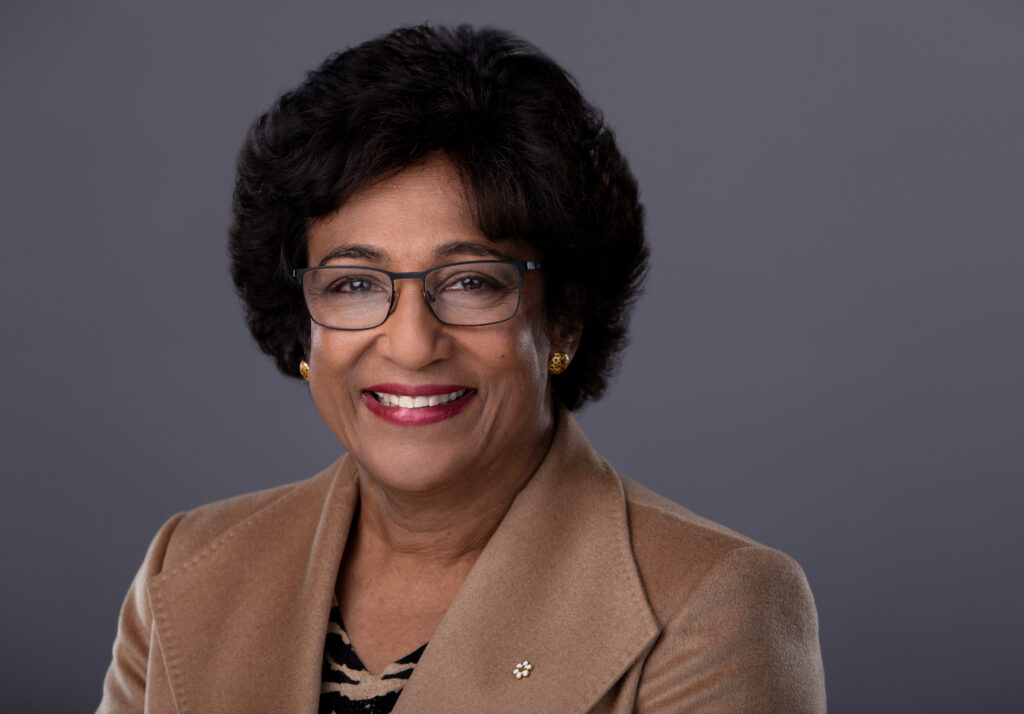 Biography
Dr. Indira V. Samarasekera is a Senior Advisor at Bennett Jones LLP and serves on the Board of Directors of Magna International, TC Energy, Intact Financial Corporation and Stelco. She served for over a decade on the Board of Bank of Nova Scotia.  Dr. Samarasekera is on the selection panel for Canada's outstanding CEO of the Year sponsored by Caldwell Partners and Bennett Jones. She is a member of the TMX Group/Institute of Corporate Directors Committee to Chart the Future of Corporate Governance in Canada. Dr. Samarasekera is a co-author of the  book, " Nerve, Lessons on Leadership from two women who went first", ECW Press 2021. She recently served on Canada's Independent Advisory Board for Senate Appointments for the Canadian Senate.
Dr. Samarasekera was the12th President and Vice Chancellor of the University of Alberta, from 2005-2015. She is internationally recognized as one of Canada's leading metallurgical engineers for her groundbreaking work on process engineering of materials, especially steel processing. She has consulted for the steel industry worldwide on numerous quality issues. She was awarded the Order of Canada in 2002 for outstanding contributions to steel process engineering. In 2014 she was elected to the National Academy of Engineering in the US as a foreign associate, the professions highest honour.
Dr. Samarasekera was Chair of the World-wide Universities Network, consisting of nineteen universities from around the world and has served on the Public Policy Forum of Canada, Canada's Science, Technology, Innovation Council, Minister's advisory committee on Canada's Global Commerce Strategy, a Presidential Visiting Committee at MIT, the Conference Board of Canada, the Prime-Minister's Committee for Renewal of the Public Service. She was an advisor to the Canadian Minister of Environment at the 2009 Copenhagen Summit, served as a moderator and speaker at the World Economic Forum in Davos, and the "Summer" Davos in China. Dr. Samarasekera was President of the Metallurgical Society of the Canadian Institute of Mining, Metallurgy and Petroleum Engineers of Canada, served on the Board of The Minerals, Metals and Materials Society of the American Institute of Mining, Materials and Petroleum Engineers.
As a Hays Fulbright Scholar, she earned an MSc from the University of California in 1976. In 1980, she was granted a PhD in metallurgical engineering from the University of British Columbia. She was Vice-President Research and held the Dofasco Chair in Advanced Steel Processing at the University of British Columbia prior to becoming President of the University of Alberta. She has received honorary degrees from the Universities of Alberta, British Columbia, Toronto, Waterloo, Montreal, Western and Queen's University in Canada, and Queen's University in Belfast, Ireland. She received the Peter Lougheed Leadership Award from the Public Policy Forum in Canada in 2012, and named one of 5 runners up for the Nation Builder of the Year by the Globe and Mail in 2010.