Nikhil R. Meswani
Nikhil R. Meswani
Executive Director and Member of the Board of Reliance Industries Limited, Mumbai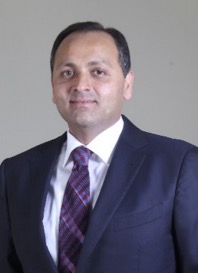 Mr. Nikhil R. Meswani is a chemical engineer and the son of Mr. Rasiklal Meswani, one of the Founder Directors of the company. He joined Reliance in 1986, and since July 1988, he has been a Whole-time Director, designated as Executive Director, on the Board of the company. He is primarily responsible for the petrochemicals business, and has made major contributions towards Reliance becoming a global leader in petrochemicals. Between 1997 and 2005, he handled the refinery business of the company. In addition, he continues to shoulder several other corporate responsibilities, such as Corporate Affairs and the Group Taxation. He is also involved in the affairs of Reliance-owned IPL cricket franchise Mumbai Indians and other sports initiatives of the company. A former President of the Association of Synthetic Fibre Industry, Mr.Nikhil Meswani was also the youngest Chairman of the Asian Chemical Fibre Industries Federation. 
He is a member of the Board of Trade, Ministry of Commerce & Industry, Government of India & the member of National Council of CII and also a managing committee member of the Federation of Indian Export Organisations [FICCI].
He has been honoured by the Institute of Economic Studies, Ministry of Commerce & Industry, and the Textile Association (India), Ministry of Textiles. He has also been honoured by the FICCI for his distinguished contribution to the petrochemicals industry.
He is a member of Global Advisory Council of Harvard University, USA. He is a member of the visiting committee of the Dean for engineering at Massachusetts Institute of Technology (MIT), USA.
He was named a Young Global Leader by the World Economic Forum in 2005, and remains an active participant in the activities of the forum. He is also Vice-Chairman of the Advisory Board for South-Asia at the forum. For several consecutive years, ICIS, a leading chemical industry magazine, has ranked Mr. Nikhil Meswani among the Top 40 Global Power Players in the chemical industry.
He is also a member of the Board of Governors of the Institute of Chemical Technology (ICT), Mumbai, and a distinguished alumnus of the same.