V. Peter Harder
Hon. V. Peter Harder, P.C.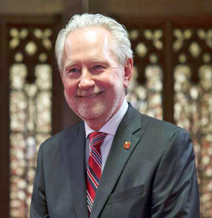 Senator Harder was summoned to the Senate in March 2016. At that time, he was named Government Representative in the Senate and sworn into the Queen's Privy Council for Canada. He remained in this position until January 2021. He now sits as a member of the Progressive Senate Group.
Senator Harder spent most of his career in the federal public service, including 16 years as Deputy Minister in a number of departments including Foreign Affairs and International Trade, Industry, as well as Citizenship and Immigration. From 2003-2007, he served as the Personal Representative of the Prime Minister (Sherpa) to three G8 Summits.
He has served on several corporate and philanthropic boards. Senator Harder is a recipient of a number of awards including the Public Service Outstanding Achievement Award, the United Way Community Builder Award, the Queen's Golden (2002) and Diamond (2012) Jubilee Medals. He was a fellow at the Trudeau Foundation, founding co-Chair of the Canada China Strategic Working Group and Royal Bank Chair on Women and Work at Carleton University. The University of Waterloo has awarded him an Honorary Doctorate for his public service.